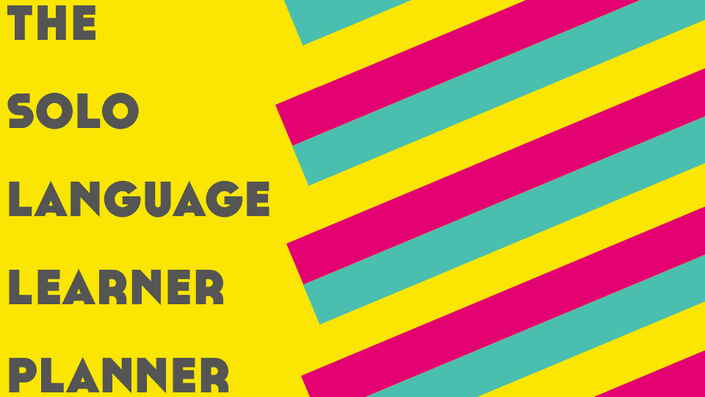 The Solo Language Learner Planner
Get your language learning in order with this reusable digital + printable planner.
Enroll in Course
You distract yourself with the washing up that definitely needs to be done before you begin studying.
You procrastinate with that dog walk that absolutely needs to happen right now.
You eventually sit down to study...a little nervous about where to begin.
5 hours later…
The dishes are washed, the dog is walked, but your language learning remains to be done.
Time for change.

The Solo Language Learner Planner is a digital and print-ready planner to get your language learning in order and make you more productive.
Forget the washing up, give the dog a bone, and get learning.
With The Solo Language Learner Planner, things look more like this...
You're studying regularly knowing exactly what you need to be focusing on.
You're reviewing your progress + improving how you do things regularly.
You're setting goals + getting them done.
Now you have time to wash up, walk the dog, and learn languages. Woop!
Here's what happens next…
You click the button above and are taken to the checkout.

Once you've enrolled, you can instantly access the Planner + download it to get started.

You have lifetime access to the materials and you up your solo language learning! Woop!
Your Instructor
Why hello there! I'm Lindsay and I do Languages, which is why I founded Lindsay Does Languages in 2012, a community dedicated to inspiring independent language learners + online teachers to succeed when doing it solo.
When I'm not learning languages myself (+ I've studied a few - 11 at last count!), I'm coaching independent language learners + online teachers just like you online.

And when I'm not doing that I'm playing with my tortoise Gonzo who speaks a grand total of zero languages.
This planner is for you if...
• You find much more urgent things to do that absolutely must be done right now before you start learning that language

• You can't escape the Instagram/Facebook/Twitter scroll for minutes...nay, hours on end (+ there's not even language stuff filling your feed!)

• You end up calling your Great Aunt Gladis who you feel a sudden pang of guilt towards for not calling in seventeen years because she definitely needs to be called right now before you start learning that language
But, hey, I'm all about honesty. This planner might not be for you if...
• You're not learning a language (If that's you, well done for finding this website!)
• You don't want to up your game with your language learning (But, let's be honest, we can always up our game, right?)
• You're a narwhal (Although...adorable. Come live with me?)
The planner has been updated majorly for 2019!
So exactly what planning pages do you get?
You get over 30 reusable digital and print-ready planning pages as follows:
CALENDARS + TRACKERS

Annual Calendar (12 Months + 6 Months)
Annual Daily Habit Tracker
Monthly Calendar
Monthly Habit Trackers (Simple + Advanced)
Weekly Overview
Weekly Habit Tracker (Simple + Advanced)
Daily Planner
GOALS
First Impression New Language Goals
First Impression Current Language Goals

Goal Setting Questions
Simple Onion Goals
Advanced Onion Goals
Simple Ladder Goals
Advanced Ladder Goals
Language Project Planner
Study Session or Project Review
RECORDS + NOTES

Lesson Record + Notes
Exchange Record + Notes
Speaking Record
Writing Record
Reading Record
Podcast Record
TV Record
Film Record
Content Review
DEEP DIVES

Content Deep Dive
Vocabulary Deep Dive
Grammar Deep Dive
Verb Deep Dive
Everything you need to keep your language learning in order for one price. Woop!
Frequently Asked Questions
When do I get the planner?
The planner is available instantly after purchasing. You can then download it to use as and when you need it. Yay!
How long do I have access to the planner?
Forever! And that includes any future updates too. Woop!
Do you offer refunds?
Due to the digital downloadable nature of this product, all sales are final.
Please note: If you are living in the EU, this purchase will be subject to compulsory EU VAT charges.